As we know that washing the face regularly is good, but most of the time, people skip it. When you are tired and have a busy schedule, you can sleep without washing off your face.
But it is suggested to clean your face with the best face washes regularly. This post is written on the 15 best face washes for women. All the best face washes for women consists in this article will better work on your skin and make it clear and glowing.
Drunk elephant beste No.9 Jelly cleanser
This drunk elephant's best jelly cleanser is the best product among all face washes. It is available in beautiful packaging, with crisp white containers with funky lids and bright colours.
If you have oily skin or you want to get rid of it, then you should use this face wash. It helps to strip the excess oils and dirt from your face and make it clean. In this way, it keeps your face refreshed and hydrated. It is also a good face wash product to remove makeup, even waterproof mascara.
Blue atlas volcanic ash face cleanser
Blu Atlas Volcanic Ash Face Cleanser is one of the best faces washes for women that work well on their skin. This face wash work well on a different type of skin, whether it is dry, oily, or a combination.
Once you start using this face wash, you can experience that your skin looks fresh and good in less time. The volcanic ash of this product supports the absorption of oils on your face and makes the feel and look of skin pores lighter.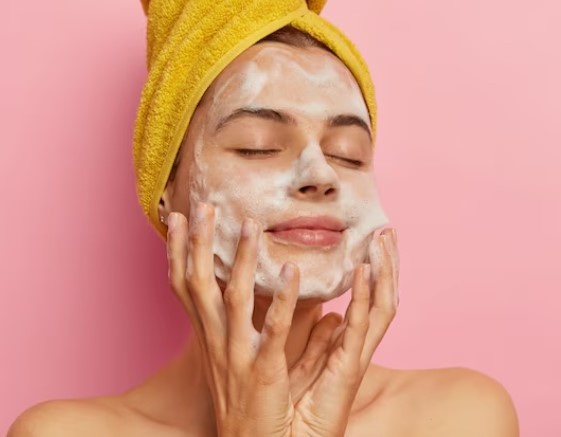 Neutrogena oil-free face wash
The Neutrogena Oil-Free Acne Wash is a powerful face wash that treats acne pore skin. This face wash is made up of 2% salicylic acid and has become the right product for acne spots and targets it down and clears your skin.
It also saves your skin and prevents it from the skin issues like acne and pores in future. Using salicylic acid in this face wash formula makes your life easier and saves you money by reducing the number of steps in your routine.
Cetaphil gentle skin cleanser
The Cetaphil Gentle Skin Cleanser is the best and most affordable face wash that fits different types of skin. It is the most famous name among the face wash available in the market. It is popular among people because of the affordability and quality that fits different skin types.
The company of this face wash has more than 70 years of experience in creating quality skin care products. It means you can blindly trust the Cetaphil face wash and use it for your skin.
The ordinary squalane cleanser
The Ordinary skincare brand is a new face product in the market and become the favourite of people. The design and affordability of this face wash to make it unique products than others.
The design of this face wash product is not only the reason why it become a favourite of people but also because it works well. This face wash uses squalane for moisturizing and hydrating properties. In this way, it brings long-term benefits to your skin.
Watermelon daily cleanser
The daily hydrating watermelon cleanser is good to use in the summer. This face wash can completely hydrate your skin. It is made up of the powerful watermelon extract that creates the best blend.
This face wash removes all the oil and dirt from your face, removes makeup, and leaves it fresh, clean, and glowing. If you experience acne issues, then it is best to use this face wash regularly and get clear skin.
Sephora collection cleanser
Do you want to see magic on your face? Here the role of the Sephora collection cleanser comes. It is one of the best lightweight gels and cleansers that work well on your skin.
It removes the makeup and toning and tightens your face. It is best to use on different types of skin, like oily, dry or combination. In this way, it targets acne spots, blemishes, blackheads, etc. and goes deep into your skin and prevents future problems. It gives the extra kick of aloe vera that soothes the heat and redness of your skin, especially in summer.
Tatcha rice wash cleanser
Tatcha face wash is made up of the Japanese term time. It is the best gift that you should give to your skin after using it and getting beneficial effects.
This tube of this face wash is small, but still, you should add it to your skin care products collection. Whether you have dry skin, oily skin, or a combination, you can freely use it. By using this product, you can easily make your skin smooth, clean, and silky and feel refreshed.
Skin fix oil cleanser.
Skinfix's foaming cleanser works well in a swift way and removes dirt and debris easily from your face. It hydrates your skin and reduces redness.
If you experience skin inflammation conditions and it puts your mood down, then you should use the Skinfix face wash. It brings your face and skin refreshed back. The solution of barrier consists in this face wash is responsible for its excellent working on the face. It stimulates the growth of the lipid on your skin and keeps the look of your face healthy and plump.
The body shop tea tree face wash
Tea tree oil has a well-known face wash in the market because it helps to clean your skin effectively. This face wash comes in a beautiful pine green bottle.
It is made up of healthy and natural tea tree oil from independent farmers of Kenya, who started the distillation process lower than 12 hours of harvesting. In this way, this product gives a guarantee of quality.
Kiehl deep cleanser
If we talk about longevity, the Mediterranean lifestyle is important to adopt. Calendula comes in the best packaging of beautiful orange flowers that is local to the Mediterranean. It is also used for many years in Ayurvedic and Chinese medicine. It comes with the best skin healing properties, and it makes it clean and refreshed again.
There are 96% recyclable ingredients used in this product. All the ingredients are ethically sourced. The extract of this powerful face wash is gathered by using a renewable source of energy and creates parabens sans alcohol, mineral oils, sulphate, etc.
Garnier face wash
The Garnier Micellar Cleansing Gel Wash is the best face wash if you want to remove dirt, makeup, and pores from your face. If it is your daily work of applying makeup and removing it from your face, then you should use this face wash and get results in less time.
The best thing is that it is easy to use this face wash. By dropping some portion of face wash in a makeup remover pad, you will see all the excess dirt, and the cleanser takes it off your face. Whether you have a skin issue due to dry skin, oily skin, or a combination, you can freely wash your face with this product and clean it. It works like a protective face wash for your skin, especially in the summer season.
Loreal face wash
L'Oreal Paris face wash is the best cleanser that uses an exclusive formula to break the skin cells and remove excess dirt and grime.
It is made up of quality ingredients, like glycolic acid, salicylic acid and aloe, that helps to soothe your skin and minimize redness. Even if the glycolic acid is a little aggressive, less dose of this face wash works well on your face and makes it clean.
Olay Regenerist face wash
The Olay Regenerist Hyaluronic face wash is the most powerful and fast cleaning product that best fits to treat your dry skin. This face wash is made up of quality serum that works effectively and tightens your skin. Moreover, it makes your skin hydrating and looks refreshed. You can get the best results within 24 hours of using this product on your face.
Whether you experience wrinkles on your face or small smile lines or want to stay free from future face problems, then this face wash is the best choice for you.
Clinique face wash
This face wash has no hidden agenda. It works well on your skin. Any moisturizing or exfoliating you would like to do falls under the best skincare routine.
This product helps to remove the excess layer of debris, dirt, makeup and dead skin cells. It makes your face skin clean and fresh.
Conclusion
Here is the list of the best 15 face wash for women. If you have dry skin, oily skin or a combination or face any skin inflammation conditions, then you can choose the specific face wash from the above list and get excellent results.
Read Also: Taper Fade Haircuts