The UK is well known for the amazing café opens there.  It has the huge variety of outstanding café, from the tearooms to coffee shops in the metropolis areas.  The seven top cafés in the UK are highlighted in this article, each with its distinct personality, ambiance, and menu.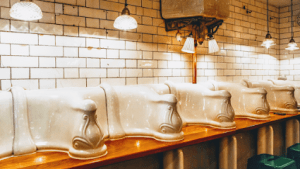 The Attendant is Located in the heart of Fitzrovia in London. It is a one-of-a-kind café that occupies what was once a public lavatory during the Victorian era, despite its unconventional setting. This establishment captivates its patrons with its exceptional coffee and delectable brunch options. Adding to its unique allure is the cafés' industrial chic interior design, which incorporates vintage porcelain fixtures.
Glasgow's The Willow Tea Rooms, steeped in history and architectural splendor, are a must-see for tea connoisseurs. This Art Nouveau treasure, created by renowned artist Charles Rennie Mackintosh, gives a genuine tea experience. Enjoy a traditional afternoon tea with sweet pastries and scones surrounded by gorgeous stained glass and ornate furniture.
Brew Lab
Brew Lab is a heaven for coffee connoisseurs in the center of Edinburgh's Old Town. This premium coffee shop takes great pleasure in its careful brewing process and uses beans from all over the world. The knowledgeable baristas at Brew Lab will create the right cup of coffee for you, whether you prefer a traditional espresso or an experimental pour-over.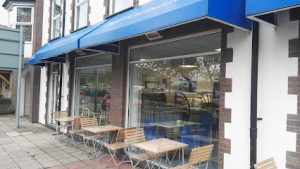 Located within the picturesque Italianate village of Portmeirion in North Wales lies The Portmeirion Café—a hidden gem offering both exquisite landscapes and delectable cuisine. This café creates an ideal retreat where one can enjoy light meals, freshly baked cakes, and expertly brewed teas. Complemented by enchanting architecture and neighboring gardens each visit is enhanced by these elements. One cannot overlook its ability to generate a genuinely magical ambiance for all who venture here.
The Pudding Pantry in Nottingham is a delightful haven for those with love for all things sweet. This esteemed café boasts a tantalizing array of desserts, each crafted with utmost care and made from locally sourced ingredients, with a menu that constantly evolves. One can indulge in a wide range of cakes, pies, and puddings that cater to diverse tastes. Whether you fancy a classic British confection or a modern creation, The Pudding Pantry has something to satisfy every palate.
Read Also: 7 Best Cream Blush Uk
Kaffeine is a bustling café that distinguishes out for its commitment to specialty coffee. It is located in Manchester's Northern Quarter. This café ensures that each cup of coffee is expertly made with an emphasis on sustainability and ethical sourcing. Kaffeine is a favorite among coffee lovers because of its modern decor, welcoming ambiance, and beautifully made drinks.
The Elephant House
Known for its connection to J.K. Rowling, the Edinburgh location of The Elephant House is a must-see for Harry Potter aficionados. This inviting café with a view of Edinburgh Castle provides a calm setting perfect for writing, reading, or just relaxing with a cup of tea. Enjoy a handmade cake while soaking up the creative atmosphere that once motivated Rowling's writing.
Monmouth coffee company
Monmouth Coffee Company, located in the center of London's bustling Borough Market, is a sanctuary for coffee lovers. This coffee shop buys its beans from sustainable farms all around the world and is renowned for its perfectly brewed drinks and freshly roasted beans. The professional baristas at Monmouth make sure that every cup is expertly brewed. Monmouth Coffee Company offers a unique coffee experience with its cozy decor and fragrant ambiance.
Lovecrumbs
Lovecrumbs is a quaint café in the charming city of Edinburgh that offers a distinctive fusion of pastries, cakes, and artwork. This café is a veritable heaven for dessert lovers with a constantly changing menu of delicious sweets, including vegan and gluten-free options.
Conclusion
The United Kingdom boasts a bustling café scene that caters to a wide range of preferences. From the City of London up to Edinburgh, Glasgow, and Nottingham. Amongst these options are seven cafés that promise an exceptional culinary journey – be it in terms of ambiance, a refined tea affair, or simply fantastic coffee.
Read Also: How To Find Antique Shops Near Me In The UK