Your home's integrity and appearance depend on keeping the roof in good condition. High-quality roof paint may lengthen your roof's lifespan and strengthen its resilience to the elements. However, because there are so many alternatives available, choosing the finest roof paint may be challenging. For your convenience, we've listed the best 7 roof coatings for your house, highlighting each one's unique benefits and advantages.
1. Behr Premium Elastomeric Roof Coating
Your roof will be well-protected and preserved with Behr Premium Elastomeric Roof Coating. This water-based composition is designed to endure inclement weather, including heat, UV rays, and severe rain. It may expand and contract in reaction to temperature changes because of its elastomeric properties, protecting against leaks and cracks. The strong adhesion that this roof coating provides to a range of roofing materials ensures your home's long-lasting defence.
Kool Seal Reflective Roof Coating is a good choice if you want to lower the expense of cooling your house. In order to keep your home cooler during the hot summer months, this energy-efficient roof paint is made with unique reflecting pigments that reflect sunlight and heat away from your roof. You might be able to lower your need for air conditioning and save money on energy costs by minimising the amount of heat your roof gathers.
Premium white roof coating from Henry, HE287SF Solar-Flex, provides great durability and weather resistance. It is an energy-efficient choice because of its reflecting qualities, which aid in lowering roof temperatures. The coating is a flexible alternative for various types of roofs because it can be applied to a variety of roofing materials, including metal, asphalt, and modified bitumen.
Ames Iron Coat Roof Coating is the best option if your roof is prone to rust and corrosion. This water-based, high-performance acrylic roof paint is designed exclusively to preserve and improve metal roofs. Strong barriers are built up, preventing moisture infiltration and rust development. Additionally, the coating's flexible and smooth finish offers a durable protective layer. Ames Iron Coat is simple to apply with a brush or roller and sticks well to a variety of roofing materials, offering good adhesion and durability. It contributes to extending the lifespan of your metal roof while preserving its original beauty by establishing a protective membrane.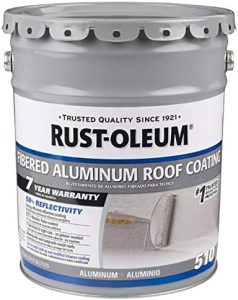 The Rust-Oleum Fibered Roof Coating is an affordable and trustworthy alternative for protecting your roof. This asphalt-based coating with fiber reinforcement offers exceptional weather resistance and waterproofing. It is simple to apply with a brush or roller and works well on a variety of roofing materials. Rust-Oleum Fibered Roof Coating is a reliable roof paint that won't break the bank if you're on a tight budget.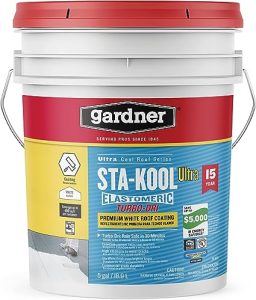 Premium elastomeric roof coating Gardner-Gibson SK-8055 is renowned for its exceptional flexibility and toughness. It prevents your roof from cracking as it expands and contracts in response to temperature fluctuations, keeping it safe all year round. This coating creates a seamless barrier that provides exceptional resistance to the growth of algae, mildew, and leaks. Additionally, it offers superior UV protection, minimizing early roof deterioration.
A modern approach to energy-efficient roofing is the Jetcoat Cool King Reflective Roof Coating. This white, elastomeric roof paint has excellent reflecting qualities that lessen heat absorption from the sun. The need for air conditioning in your home can be considerably decreased by keeping lower roof temperatures. Additionally, its cutting-edge formulation provides superior waterproofing and UV defense, resulting in a roof that lasts longer.
Conclusion
Choosing the best roof paint is essential for protecting the roof of your home. The top 7 roof paints, which are listed above, provide a variety of attributes, from reflective pigments to elastomeric qualities, to meet various roofing needs. These top-rated roof coatings can help you improve your roof's longevity, reduce energy expenditures, or safeguard against rust and leaks. Consider the particular specifications of your roof before deciding, then pick a model that best fits your requirements and price range.
Read Also: 7 Best Small Garden Tables UK