Kasuri Methi is a commonly used ingredient in Indian food. It is an important ingredient to use while preparing food in the kitchen. Mostly, all Indian women know about Kasuri methi. If you do not know about kasuri methi, you should read this article.
What is Kasuri Methi
Many people know that kasuri methi is known as an important Indian species used in vegetables, curries, parathas, etc. The dried leaves of the Fenugreek plant are famous for being bitter and adding an aromatic flavour to food. It is available in the form of seeds and dry leaves.
Benefits of Kasuri Methi
Kasuri Methi is one of best integral dietary fibre due to richness in iron and protein content. It is low in fat and calories; just ensure that kasuri methi is a favourite for all people who want to stay healthy.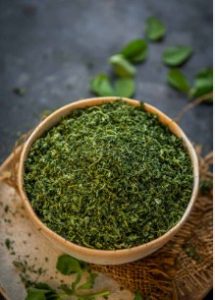 Perfect solution for gastrointestinal problems
Kasuri Methi leaves are a popular ingredient because of their high antioxidant properties that reduce gastrointestinal issues and improve digestion. Along with this, the dried Fenugreek leaves are rich in fibre content. Because of this, they do not suffer from inflammation, irritable bowel syndrome, or constipation problems.
It maintains the cholesterol level.
Having a high cholesterol level is not good for people because it causes many health issues like high BP, etc., so it is important for people to adopt a healthy lifestyle and maintain cholesterol. The benefit of using kasuri methi in food is that it helps humans to maintain their cholesterol levels.
Helps to lose weight
The benefits of adding methi seeds and kasuri methi to your diet are that it helps you to lose weight and take better steps towards health.
Improve eyesight
According to studies, it is determined that iron content in one spoon of dried fenugreek leaves consists the 3% of the daily nutritional value and becomes good for the eyes. If you are a person who works for a long time on a computer or has pressure on your eyes long time, then you should start consuming kasuri methi in your food so you stay away from wearing heavy glasses due to poor sight.
Good for hair health
As we know that hair is an important part of people's personalities, and this is why they always want to keep the look of their hair shiny, smooth, and strong. You should have dried the home remedies and shampoos to get your hair perfect. So, it is time to make the homemade mask by using kasuri methi, eggs, and tea leaves and make your hair the best.
Make glow skin
Sometimes, people are not unable to care for their skin or glow it because of their hectic routines or stressful life. Here the role of kasuri methi comes. All you need only to apply the methi pack three times a week on your skin and keep it glowing.
Control diabetes
Another best use of kasuri methi leaves is that they control diabetes by making control on glucose metabolism in the human body. If you consume kasuri methi regularly in dal, curries, stews, etc., then you are able to control type II diabetes quickly.
Keep skin away from diseases.
If people consume the kasuri methi regularly, then they will not face the problems of acne, sunburns, pigmentation, breakouts, etc. Along with this, the kasuri methi helps people to rejuvenate dead skin cells.
A way to store kasuri methi
Usually, people do not know the right way to store the kasuri methi. Once you know what kasuri methi is, you should know about its storing way. The right way to store kasuri methi is to keep it in a very cool and dry place where there is no reach of moisture. As per experts, it is always good and convenient to store fenugreek leaves in the refrigerator in an airtight container. Normally, the kasuri methi shelf life is around 6-7 months.
Conclusion
Hope you know the meaning of kasuri methi and why it is used in food. Due to the benefit mentioned above, kasuri methi is used well in many dishes.
Read Also: Immunity-Boosting Winter Foods