Ossington is the best city, with a number of restaurants, bars, and boutiques. This is the reason why people love to visit Ossington and spend their nights out there. If live music is more than jam, you can stop at the Dakota Tavern for southern-style live music here. If your goal is to try the good food in Ossington, then you can visit any of the mentioned 8 Ossington restaurants here and get the most out of your experience.
Bernhardt's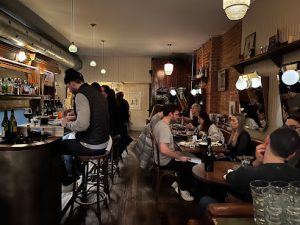 Bernhardt's is the best Ossington restaurant that serves you vegetable and chicken dishes using local produce. It is a charming and laid-back place for locals to visit. Once you reach this restaurant, do not hesitate to check the menu list of low-intervention and organic wine bottles. Here, you find various vegetable-forward and colourful dishes, and the menu highlights the much-loved big greenie for clients.
Address: 202 Dovercourt Rd, Toronto, ON M6J 3C8, Canada
Website: http://bernhardtstoronto.com/
What to eat- Big greenie, Fish stick butty, vegetarian BLT, etc.
Cote de boeuf
Cote de Boeuf is the butcher shop in Ossignton that offers French dishes and bistro to guests, including the Cote de Boeuf tiny, bone-in prime rib steak vintage space. It attracts the guests and gains their attention. When you visit this restaurant, you can put your feet into a hidden gem because you are admired by the chalkboards, wine barrels, and dinner and lunch specials.
Address: 130 Ossington Ave, Toronto, ON M6J 2Z5, Canada
Website: http://www.cotedeboeuf.ca/
What to eat- Iberico Ham, cote de boeuf, escargot, and beef tartare       
Soos
Soos is another of the best Ossignton restaurants that specialises in Malaysian street food, full of complex and exotic flavours of Nyonya and Malay cuisines in famous staples with a twist. From rending braised beef to dhal roti, the menu of this restaurant offers something the best for customers' dinner.
Address: 94 Ossington Ave, Toronto, ON M6J 2Z4, Canada
Website: http://www.soostoronto.com/
What to eat- Kapitan chicken tacos, char kway teow, pisang goreng, and rendang braised beef
La Banane
La Banane is the most popular restaurant that serves you tapas with a decorated and elegant dining room that brings the breathy sort of Eastern middle boho feel. Here, you can begin with the most famous dip, the labneh. This is a sure item on the menu that boasts the traditional dishes with the citrus and acidity hits.
Address: 227 Ossington Ave, Toronto, ON M6J 2Z8, Canada
Website: http://www.labanane.ca/
What to eat- Mushroom Five Ways, labneh, the grilled octopus.
Té
If you love Korean food, then the restaurant is best for you. It is the best contemporary restaurant that serves you modern Korean dishes inspired by North American comfort staples food and impresses guests with brass accents and a jewel-toned bar.
Address: 70 Ossington Ave, Toronto, ON M6J 2Y7, Canada
Website: https://www.tetoronto.com/
What to eat- Taiwanese fried chicken, Kimchi devilled egg, Braised Pork crostini.
Chiado restaurant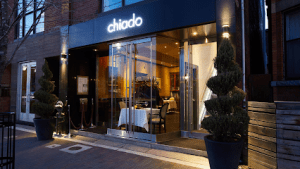 Chiado restaurant brings the taste of Ossington to Portugal and has become the must-try restaurant for the progressive and old Portuguese with great presentation. From food quality to decoration, Chiado restaurant provides a good experience that is tough to find at any restaurant in the city. The menu of this place highlights the salted cod, grilled octopus, shrimp bisque, lobster, and goat cheese toast.
Address: 864 College St, Toronto, ON M6H 1A3, Canada
Website: http://www.chiadorestaurant.com/
What to eat- Salted cod, goat cheese toast, lobster, and many more.
Salt Wine Bar Ltd
Salt Wine Bar is pure heaven for people who love to try Spanish and Portuguese food. It provides a great variety of tapas, dishes, and many more that match the charming, all-wood and cosy space of this restaurant. Whenever you visit the Salt Wine Bar Ltd restaurant, you should try the oxtail consommé with the mild sweetness and comforting broth from sherry with a slight tanginess.
Address: 225 Ossington Ave, Toronto, ON M6J 2Z8, Canada
Website: http://saltrestaurant.ca/
What to eat- Portuguese sardines, Chocolate tart, Oxtail consommé.
Ossington stop
Ossington Stop Restaurant provides Russian traditional cuisines to clients with a European-inspired drink menu. It is the place where you can enjoy your whole day with the vintage atmosphere, delicious food, and Russian folk music. You can pair the dumplings with Russian soup and borsch made up of beef stock. It adds rich flavour to your delicious taste, along with carrots, potatoes, a touch of tomato, and bits of cabbage.
Address: 1543 Dundas St W, Toronto, ON M6K 1T6, Canada
Website: http://theossingtonstop.ca/
What to eat- Khinkali dumplings, beluga vodka, cured salmon,  borsch, cabbage rolls.
Conclusion
So these are the best restaurants in Ossington that you can visit and enjoy the delicious food mentioned here.
Read Also: 8 Best Restaurants in Coventry, UK