Himachal Pradesh is a very beautiful and breathtaking state in India. Every day thousands of tourists reach this state to visit.
If you are also searching for a good lake in Himachal Pradesh to visit with your family or friends, then you must read this article completely, in which we are going to talk about the major lakes of Himachal Pradesh –
Dal Lake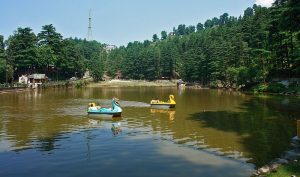 Dal Lake, located in Himachal Pradesh, is located at a distance of 11 kilometers from Dharamshala near Tota Rani village on Mcleodganj Naddi road in Kangra district. This famous lake will be seen after traveling 2 km west from Mcleodganj market. This lake is situated amidst the lush green forests of deodar. There is a lot of greenery around this lake and tourists can enjoy the natural beauty of nature here. This lake is spread over about one hectare. On the shores of beautiful Dal Lake, there is a well-known Shiva temple. This temple is thought to be 200 years old or so. Legend has it that Durvasa Rishi prayed to Lord Shiva here. Dal Lake, located in Himachal Pradesh, is situated at an altitude of 1,775 meters above sea level.
Renuka Lake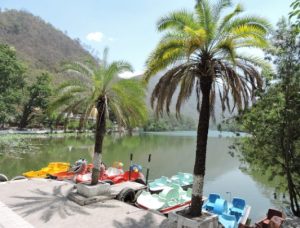 Renuka Lake is the largest natural lake of Himachal Pradesh. It is located in Sirmaur district at an altitude of 660 meters away from Nahan. The total length of this lake is 2.5 kilometers. Renuka lakes are at 13th place in the natural lakes of the world. The size of Renuka lake is sleeping woman. Renuka is the mother of Lord Parashurama, the sixth incarnation of Vishnu. Renuka had to be sacrificed at the hands of her son Parashurama. Parashurama did so by obeying his father Jamadagin. Jamadagin is known as Jamlu Devta and is celebrated in the month of Kartik. International Renuka Fair is celebrated for 5 days.
Parashar Lake
Prasar Lake is one of the most famous lakes of Himachal Pradesh, situated about 50 km north of Mandi at an altitude of 2730 m between the Dhauladhar ranges. Let us tell you that this beautiful lake is a crystal clear water body, in which a three-storey pagoda is also situated, which is dedicated to Rishi Prahar. Surrounded by the mighty Dhauladhar ranges in the Kullu Valley, Parashar Lake is full of mystical charm that can only be seen during a visit to Parashar Lake. The lake is also a perfect spot for trekkers and campers where trekkers can trek to Prasar Lake via an adventurous trail and enjoy camping amidst the Dhauladhar ranges on the banks of the lake.
Chandratal Lake
Chandratal Lake is a famous lake in Himachal Pradesh situated at an altitude of about 4,300 meters above sea level, which is also counted among the most beautiful lakes in India. This beautiful lake is one of the two highest altitude wetlands of India. Another special thing about Chandratal Lake is that this lake is crescent-shaped, due to which it has received the name Chandratal. Surrounded by lush green meadows, the serene atmosphere and unmatched natural beauty of Chandratal Lake is such that once you see it, you cannot take your eyes off it.
Various wild flowers also bloom in the fields around the lake in spring. Apart from all this, the color of the water of this holy lake changes from red to orange to blue to emerald green as the day sets. The journey to Chandratal Lake is challenging as the lake can be reached only by trekking.
Gobind Sagar Lake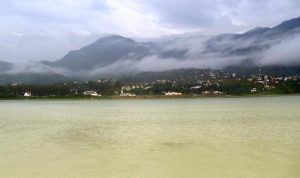 Govind Sagar Lake located in Bilaspur district of Himachal Pradesh is the largest man-made artificial lake of Himachal Pradesh built on Sutlej river. From Salapad in district Mandi to Bilaspur Bhakra village, Govind Sagar lake length is 88 kilometers and its area is 169 square kilometers. It was completed in 1963. The 226 meter high Bhakra Dam is built on the Govind Sagar Lake itself. Asia's highest Kandaur Bridge is located on the Govind Sagar Lake. The Govind Sagar Lake is named after the tenth Guru of the Sikhs, "Guru Gobind Singh".
For those who enjoy the outdoors and adventure, the lake is a delight. Whenever you come to visit Gobind Sagar Lake, the famous lake of Himachal Pradesh with your family or friends, you can enjoy adventure and recreational activities here along with spending a peaceful time on the banks of the lake.
Conclusion
In this post, we have told about some famous lakes of Himachal Pradesh. Hope you would have enjoyed reading it. You can still visit it during summer vacations with your friends and kids.
Read Also: Bali Famous Tourist Places