In many homes, staircases are a crucial component of architecture, and they offer a wonderful opportunity to improve the aesthetics of your room as a whole. The stairwell area could benefit from wall panelling as a means of achieving this.
A simple staircase may be made into a spectacular focal point by adding wall panelling because it adds texture, visual intrigue, and a sense of class. This post will look at 15 gorgeous stair wall panelling ideas that can improve your home's design.
Traditional Wainscoting
Traditional wainscoting panels have raised or recessed profiles that give them a timeless, upscale appearance. Installing them will add a sophisticated and stylish touch along the lower portion of the stair wall.
Along the wall of the stairs, install traditional wainscoting panelling. With lower panels that are made of a different material or colour than the upper panels, this classic style gives your staircase elegance and charm.
Shiplap
Take advantage of the rustic appeal of shiplap panelling. The horizontal hardwood planks offer a warm, farmhouse-inspired ambience that is ideal for building an inviting staircase. Installing shiplap panelling on the stair wall will give the space a rustic and inviting feel. The horizontal hardwood planks give your staircase a farmhouse-style appearance by adding texture and visual intrigue.
Geometric patterns
Try out different geometric patterns to give your design a modern, artistic feel. Play with various sizes, shapes, and angles to produce a distinctive and captivating design.
Choose wall coverings with geometric designs and shapes that are current and contemporary. These panels, which can be made of wood, metal, or other materials, give your staircase a distinctive and creative feel.
Beadboard
Beadboard panelling gives your staircase a cottage-style charm thanks to its vertical grooves. To give it a delicate and inviting appearance, paint it in a soft pastel colour.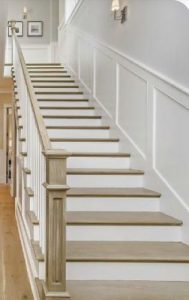 Mirrored Panels
To provide the impression of space and reflect light, incorporate mirrors into the panelling design. Mirrored panels can provide the impression that a narrow staircase area is bigger and more open.
Wallpapered Panels
Give your stair wall some personality and colour by wallpapering the panels. To fit your style, pick a pattern that is strong and colourful or one that is delicate and textured.
Leather upholstery
Consider leather upholstery for the stair wall panels if you want to provide a posh and sumptuous touch. This luxurious material gives the room texture, warmth, and a posh feel.
Reclaimed Wood
Use reclaimed wood for the panelling to give your staircase a rustic and environmentally responsible appearance. The wood grain's natural variances and aged textures give it character and authenticity.
Art Deco Inspired
For a glitzy and opulent look, include Art Deco details in your stair wall panelling. Select panelling with angular designs, metallic accents, and elaborate embellishments.
Panelled Archways
Frame your staircase with panelled archways to give it a sense of grandeur. The architectural element adds elegance and facilitates a seamless change in space.
Chevron Patterns
Chevron patterns give your staircase a contemporary, energetic feel. For a stunning and modern appearance, install chevron-patterned wood or tile panels.
Wall Paneling and Recessed Lighting
For a dramatic effect, pair wall panelling with recessed lighting. For a dramatic play of light and shadow, shine light from above or below on the wall panels that line the stairs.
Glass Panels
For a modern, airy appearance, choose smooth, transparent glass panels. This contemporary option maximizes light penetration and highlights the staircase's stunning architectural features.
Metal Accents
To give the panelling design an industrial and edgy feel, incorporate metal accents into it. For a striking contrast, combine metal with other elements like wood or glass.
Curved Paneling
 If your staircase is curved, you might want to use curved panelling to match the curvature. This specially created panelling highlights the distinctive shape of the staircase and produced a seamless, unified appearance.
Conclusion
Consider your home's general design when choosing a stair wall panelling design, and opt for a style that blends well with the existing furnishings. Whether you favour a conventional, modern, or eclectic design, adding panelling to your stair wall is a great way to draw attention to yourself and improve the appearance of your house.
Read Also: 10 Best Garden Coffee Tables In Uk