Thomas Cruise Mapother IV is known as Tom Cruise. He is a filmmaker and award-winning American actor. He is come out as a popular Hollywood actor and is well known for his good looks in public. He is the highest-paid actor in the Hollywood industry. He has starred in various Hollywood movies. The first movie done by him was Endless Love. If you want to gain complete information about tom cruise, you should read this article.
Biography of tom cruise
Tom Cruise received the golden globe three awards and the Academy Awards three nominations. He is well known because of playing the role of Ethan Hunt's secret agent in six Impossible Missions films. Here are a few notable pictures that starred the tom cruise.
Collateral in 2004
Knight and Day in 2010
Jack Reacher in 2012
The Last Samurai in 2003
The Mummy in 2017
Oblivion in 2013
Edge of Tomorrow in 2014
War of the Worlds in 2005
Top Gun: Maverick in 2022
The early life of tom cruise
Tom Cruise is a famous Hollywood actor who was born on 3 July 1962 in New York. His parents are Thomas Cruise Mapother III  and Mary Lee Pfeiffer. His mother is a teacher, and his father works as an electrical engineer. Marian, Lee Anne, and Cass are the three sisters of Tom Cruise. His parents belong from Louisville, Kentucky. His father was considered of German descent, whereas his mother has English and Irish roots.
Young Tom was on the move constantly as a child. At the age of 14 years, he attended 15 different schools in the United States and Canada. When he was a teenager, cruise wanted to be a priest instead of an actor. But the fade has some other plans for him, and at 19 years old, he found playing himself in a minor role movie with endless love.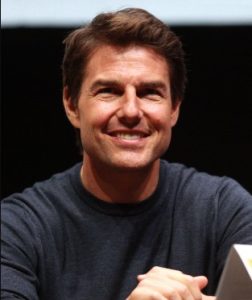 Personal life of tom cruise
Tom Cruise married Mimi Rogers actress in May 1987. She introduces Scientology to Cruise and helps him to become an outspoken advocate for the Church. But, their marriage ended in February 1990. In December 1990, he married another actress, Nicole Kidman. They adopt two kids together, but their marriage also ends after only 10 years. Again, on 18 November 2006, he married Katie Holmes actress. They have a daughter together. After 5.5 years, on 29 June 2012, she filed a divorce case. With Tom's three marriages, he also has relationship status with actress of Spain Penelope Cruz and British-Iranian actress Nazanin Boniadi.
The career of tom cruise
Tom Cruise begins his career with a small role in the movie endless love. He worked in this movie at the age of 19 years old. Then, he played the role of Goodson in the comedy romantic movie 1983 "Risky Business" after playing some roles in more movies. With his charm and looks, he won the heart of many people, including American girls.
The movie that he did became a huge success for his role as Lieutenant Pete Mitchell 1986,  a young naval aviator, in the movie action drama,  "Top Gun". He gains great success with this movie also, which makes her strong status as a star. Throughout the 1980s, his success goes ahead with the movies like A Cocktail, the colour of Money, rain man, etc.
Awards and achievements of tom cruise
Best Performance in Motion Picture by actor —Drama that was Born on the 4 July 1990
Best Performance a Motion Picture by actor – musical or comedy for Jerry Maguire in 1997
Best Performance in a Supporting Role by an actor– Magnolia  in 1999
He received the Excellence in Mentoring Award in 2003 from the National Mentoring Partnership because of his associated work with the organization.
Conclusion
Tom Cruise is an Award-winning actor and is considered one of the most well-known actors in the Hollywood field. He has an endearing appearance and a stunningly attractive. From his lonesome wanderings in youth, he come on a long way to being called the greatest movie star ever.
Read Also: Bader Shammas Net Worth